Did you know that it's possible to control your TV using your smartphone? All you need is one of these TV remote apps for your Android or iPhone.
TV remote apps will not necessarily work with all televisions. However, as long as you choose the best remote control app for your needs, you'll be able to operate your TV, smart home devices, set-top boxes, and more.
The Android TV Remote Control app is an official Google product. You can use it to control any Android TV device that's on the same Wi-Fi network as your smartphone.
If your Android TV device uses a wired ethernet connection (which is often recommended for smoother video playback), you can also connect using Bluetooth if your Android TV box supports it.
The remote app offers both D-pad and touchpad controls. You can search with your voice by tapping on the microphone icon (again, assuming your Android TV box supports voice search).
The Android TV Remote Control app works with all Android TV boxes, regardless of the manufacturer.
Download: Android TV Remote Control for Android | iOS (Free)
If you only want a remote app for your Amazon Fire TV device, you should check out the official app.
Like the Android TV remote app, it can control the device using a combination of touchpad and voice controls. Additionally, there's a handy text entry tool; it will save you from painstakingly typing every web address or YouTube search query using the Fire TV's on-screen keyboard.
The Amazon Fire TV Remote app displays all your Fire TV apps in a single list for quick launching.
If you have multiple Fire TV devices in your household, don't worry. The remote app makes it easy to jump between the different units.
Download: Amazon Fire TV Remote for Android | iOS
The two TV remote apps we have looked at so far both focus on controlling a specific device. But what if you want a remote control app that can manage multiple devices? You need a universal remote app.
In that case, you should check out the Universal Remote For RCA on Android. It will work with your TV, DVD player, Blu-Ray player, and several streaming devices.
Be warned that the setup process can take some time; you may need to cycle through many different RCA TV types before you find one that works.
Download: RCA Universal Remote for Android (Free)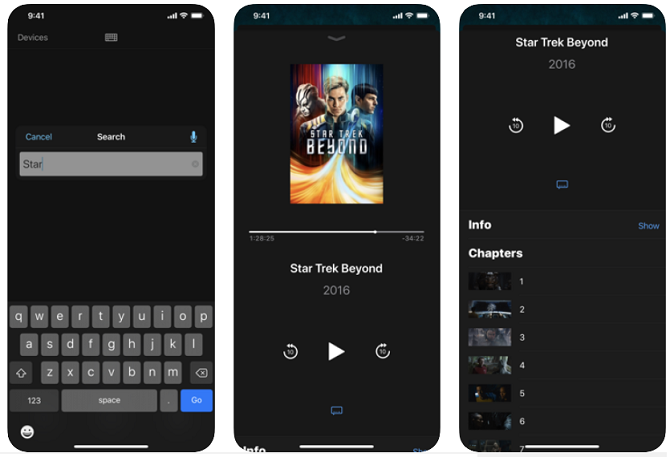 Apple TV Remote is the official Apple TV remote app for your iPhone. It also lets you control your Apple TV from an iPad.
Like the Android TV remote app and the Fire TV remote app, you can use touch gestures and enter text using your iPhone's keyboard.
Other useful features include support for Siri, on-screen song lyrics when you're listening to music, and even a Game Mode that provides simplified controls for when you're gaming rather than watching video content.
Interestingly, the app is compatible with an iPhone's accelerometer and gyroscope; the data collected by the hardware can be fed into Apple TV games and other apps.
Sadly, there is no native Apple TV remote for Android. The best solution is to use AnyMote.
Download: Apple TV Remote for iOS (Free)
If your hardware has an infrared (IR) blaster, this is probably the best TV remote app available on Android.
For starters, it's highly configurable. You can decide what function every swipe, tap, and gesture represents. AnyMote also supports macros; with a single tap, you could dim your lights, set your TV to the right input channel, and turn on your surround sound. It's perfect for a movie night or an important sports game.
Additionally, there's support for widgets (so your most-used commands are never more than a tap away), automated tasks (for example, automatically pausing the video if your phone rings), and even a floating remote "chat head".
If your device doesn't have an IR blaster, check out AnyMote's other app---AnyMote Universal Remote.
Download: AnyMote Smart IR Remote for Android ($6.99)
Unified TV is another well-known name in the world of TV remote apps. It supports a vast number of devices and manufacturers. Supported gadgets include TVs from all the leading brands, cable boxes, and satellite boxes.
The app also works with some game consoles (including the Xbox One and PlayStation 4) and streaming devices such as Apple TV, Nvidia Shield, and Roku. It'll even work with projectors from BenQ, Canon, Dell, Epson, InFocus, Sanyo, and Sony.
Aside from the number of devices that the app supports, some of the key features are widget support, NFC support, and integration with Flic and Tasker.
Unified TV relies on an IR blaster to work, so you either need a mobile device with IR capabilities or a network-attached IR receiver.
Download: Unified TV for Android | iOS ($0.99)
Like the other big players in the streaming sector, Roku makes a mobile version of its physical TV remote. It is available for free on both Android and iOS.
The remote app is as full-featured as its physical cousin. There are on-screen buttons for Netflix, The Roku Channel, and your other Roku apps. Plus you can listen privately via headphones, and voice search is supported. You can also cast content directly from your Android or iOS device using the mobile app.
Download: Roku for Android | iOS (Free)
SURE - Smart Home and TV Universal Remote is designed for phones that have a built-in IR blaster. If your phone doesn't, you'll need to buy a Wi-Fi-to-IR convertor.
Assuming your phone has the IR capabilities, you can use the app to control your smart TV, media streamer, smart lights, air conditioner, and more.
Voice control is supported (though Alexa and Google Assistant are not), you can stream content from your phone to your TV, and there's a built-in media player.
Download: SURE - Smart Home and TV Universal Remote for Android | iOS (Free, in-app purchases available)
Some readers might not be overly surprised to learn that many TV manufacturers' official remote apps are less-than-impressive. They have universally poor review scores from other users.
But help is at hand. Some developers have taken it into their own hands and produced IR-based third-party apps. This TV Remote Control for Samsung app is one such example.
There are no fancy graphics or silly gimmicks. The creator has mirrored the image of a physical Samsung remote and turned it into a touch-friendly version. The reviews are unanimously positive.
Unfortunately for iPhone owners, the app is only available on Android.
Download: TV Remote Control for Samsung for Android (Free)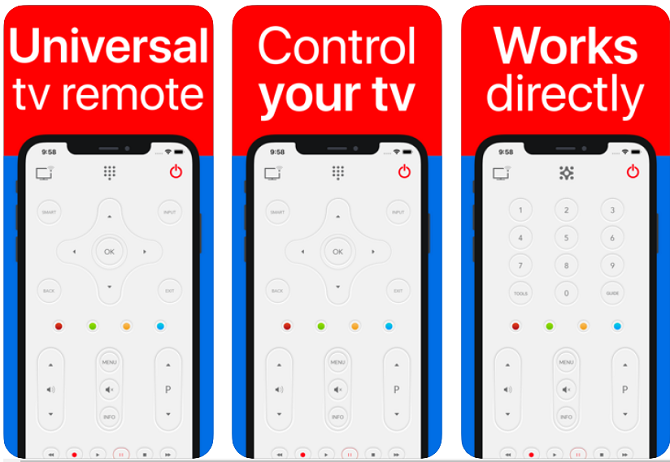 Our final recommendation is an iOS-only app: Universal Remote TV Smart. You can use it to control TV models from all the leading manufacturers, including Samsung, LG, Sony, Philips, Panasonic, and Hitachi.
The app is very straightforward to set up. As long as the remote app is on the same Wi-Fi network as your TV, it will automatically detect any TVs on your network.
You can use Universal Remote TV Smart to change the volume of your TV, change the channels, play/pause video, power on/off, and access settings menus and other on-screen elements.
Download: Universal Remote TV Smart for iOS (Free)
TV remote control apps are handy. They can get you out of a bind if you misplace the physical device or the batteries run out. However, even the best TV remote apps aren't close in functionality to the best all-in-one universal TV remotes.