If you want to record TV on a computer, what options do you have available? A lot depends on how you're receiving the video in the first place.
In this article, we're going to introduce you to a selection of apps, devices, and services that'll let you record TV on your PC.
You can choose from one of three ways to receive a live TV signal on your computer screen.
An OTA antenna can pick up any free-to-air channels in your area. You can pick up cheap OTA antennas at your local supermarket, but for a high-end option, check out the ever-popular Mohu Leaf.
To let your computer read the TV signal, you'll need to buy a TV tuner.
You can also watch your cable TV package on your computer, but it's more difficult than for an OTA signal.
Like OTA, you will need a TV tuner. TV tuners come in many forms; the most common are internal Peripheral Component Interconnect (PCI) cards, external USB cards, and network-attached devices. A network-attached device---such as the HDHomeRun---is the preferred option.
Getting a cable TV signal onto your computer is further complicated by the channel encoding format. It is called Quadrature Amplitude Modulation (QAM). QAM frequencies vary between cable providers; it can be difficult to establish the correct frequencies for your provider.
Many online services now offer live TV streaming. Some of the best live TV services include Hulu, Sling, YouTube TV, and Fubo.
These services are the easiest way to get live content on your computer, but they are the most complicated to record. You will need to decide whether the tradeoff is worth it.
Plex offers a premium service called Plex Pass. The subscription costs $4.99 for a month, $39.99 for a year, or $119.99 for a lifetime.
One of the best features of Plex Pass is access to live TV. If you pick up an antenna and a digital tuner, you can watch any OTA channels in your area. The content is displayed on a full electronic program guide (EPG).
Plex Pass has a DVR feature. It means you can use the EPG to set programs to record. When the recording has finished, it will be available on your Plex server. You can watch it on any of your Plex apps.
If you don't want to use Plex, you might instead buy a subscription from one of the web-based live TV providers.
Most of the leading streaming services now offer some form of DVR functionality, either for free or as a paid add-on.
Using the providers' services has both advantages and disadvantages. You won't have a physical copy that you can take with you anywhere, but you will be able to access your recording on any device via the services' apps. Keep an eye on time limits---some providers only make recordings available for a limited amount of time.
If you set up a TV tuner that doesn't have a built-in DVR feature, you could use a screen recording app to grab the footage. In theory, you can also use screen recorders to grab live TV from services like Sling, but more and more the providers using security features that prevent such recordings.
The Movavi screen recorder works well. It has a customizable capture area, so you won't have any of your other desktop clutter in your video.
When the recording is over, you can convert the file into the format you want at the end of the process. There are other options to consider for recording your screen, including OBS Studio and Screencast-O-Matic.
Remember: It is illegal to distribute footage you record using the above method.
Let's look at the problem from a different angle.
The two solutions we've discussed above both assume you want to record TV footage that's coming through your internet connection. But what if you're not a cord cutter? What if you still have a cable subscription and want to retain copies of shows, just like we used to do with VHS cassettes? You will need a Hauppauge 1512 HD-PVR 2 Personal Video Recorder.
Setting up the device is relatively straightforward. You need to connect component video and audio cables between your cable box and your Hauppauge device, then connect the USB cable from the PVR to your computer.
Install the necessary drivers and software on your machine, then follow the on-screen instructions to start recording. You can configure the audio and video settings, the recording format, and the bitrate.
Once you become proficient in using your new setup, you can perform more advanced tasks such as scheduling recordings, burning Blu-ray disks, and digitizing old VHS cassettes.
You can record TV on a PC with the HDHomeRun. It's a TV tuner, so you will need to pair it with an OTA antenna to receive channels. HDHomeRun devices come in either a two-tuner or a three-tuner model. Both have the ability to record footage.
However, like SlingTV, HDHomeRun requires a subscription in order to use the DVR features. The subscription costs $35/year but also adds a 14-day TV guide, the ability to pause and rewind live TV, and a way to watch live TV while simultaneously recording another channel. There are even a few quirky options, such as being able to set your favorite sports team and automatically record all its games during a season.
HDHomeRun recordings can be managed from your computer or through one of the mobile/smart TV apps. Unfortunately, it's not possible to remove your recordings from the cloud and share them offline.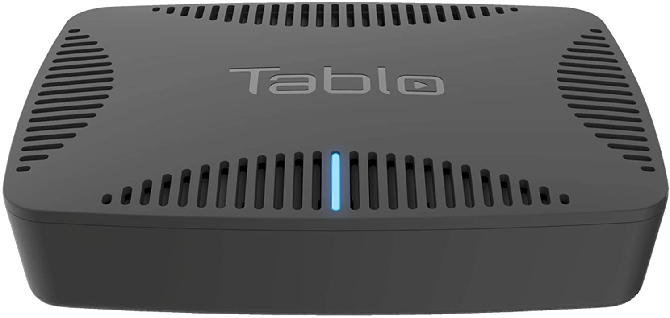 Tablo is an HDHomeRun alternative. It's a standalone box that offers DVR capabilities when you attach an aerial. Again, you can access your recordings through the company's apps, but you can't take your recordings offline. Tablo only works with OTA television.
One of Tablo's most popular models is 2019's Quad. It has an internal hard drive so you don't need to worry about dongles and external hard drives to save your recordings. It was one of users' biggest criticisms of earlier models.
There is one other way to record live TV on your computer, but it's not user-friendly.
MythTV is a free, open-source video recorder. It started life back in 2002 as someone's pet project but has since grown to become a usable alternative to the now-defunct Windows Media Center.
The feature list is impressive. You can record analog and digital TV, pause live shows, automatically skip commercials, and even deploy parental controls.
So, what's the downside? Well, the installation process is a nightmare. You will need to compile the app yourself as the developers don't offer an EXE file. Explaining the process is beyond the scope of this piece, but you can check out the instructions on the app's official wiki.
We've shown you several different ways you can use your computer to record live TV, each of which will appeal to a different type of user.
For example, some methods will create an offline version of the show which you can watch anywhere, while others don't provide you with portable copies of your recordings. As always, it's about finding an app that meets your usage needs.
Maybe, you are familiar with Raspberry Pi. Then, you can build a DIY DVR and record live TV using a Raspberry Pi.