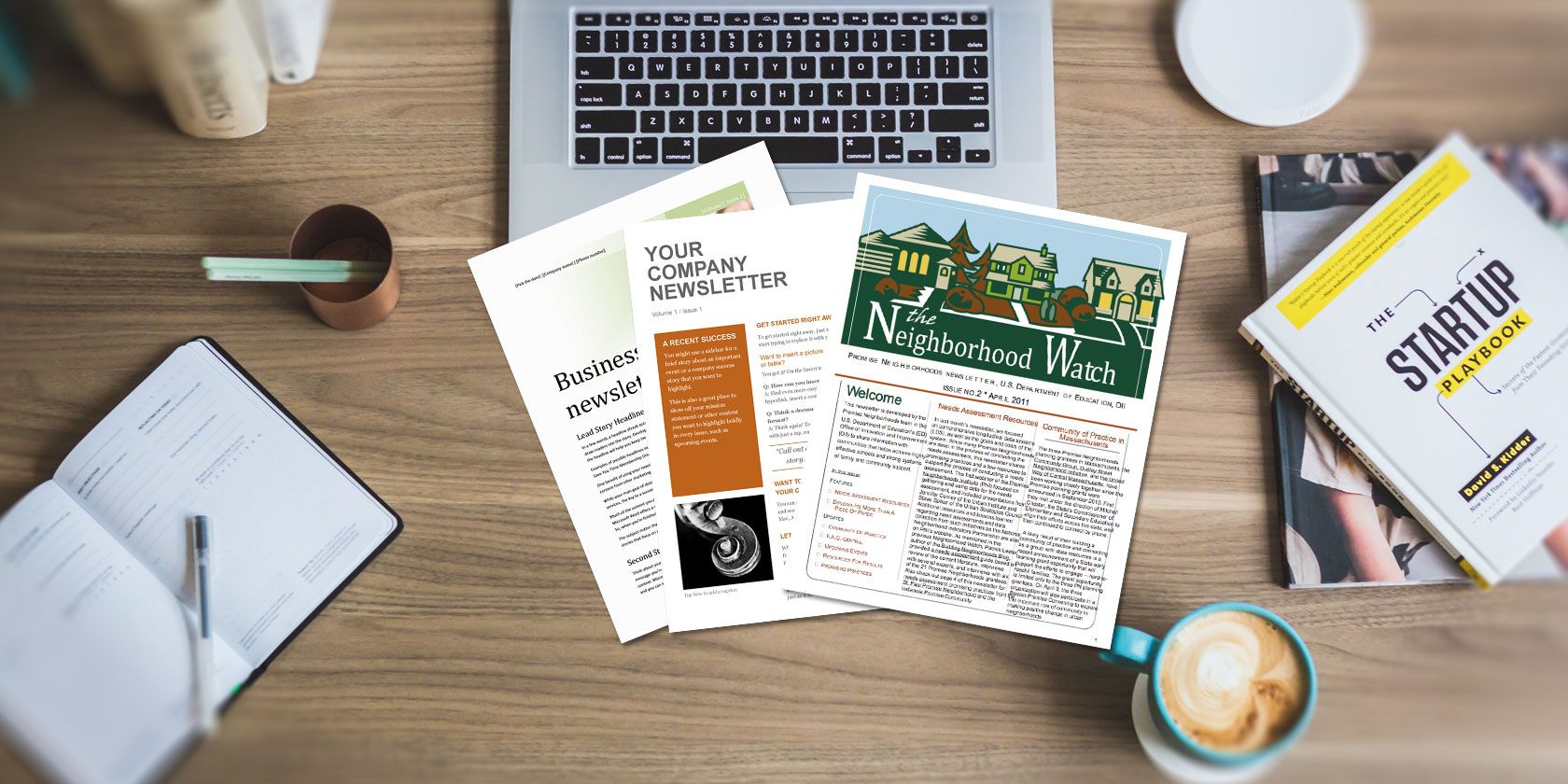 If you're looking for printable free newsletter templates for your business or group, look no further.
While many companies and organizations send their newsletters via email, there are still situations when you may want to print and distribute physical newsletters. You can place them in the company breakroom or teachers' lounge, hand them out after a school board meeting or church session, and distribute them to committee members, clubs, or community groups.
These newsletter templates can help you provide a consistent appearance and have easy-to-edit layouts. And remember, you can still send them as email attachments in addition to printing them.
Whether you want to share your company news with clients and customers or provide an internal newsletter to employees, these templates are for you. And for more business templates that help you save time, check out these options.
Share your company newsletter with clients using this attractive template. You can easily adjust the colors to those for your company. The first page has a nice formatted spot for a quote from an executive or a customer testimonial. You can also swap out the photos for those showing your company products or services.
Another company newsletter option is this one from Microsoft Office. You can fill four pages of information which is great for quarterly or semi-annual newsletters when you have a lot to share. With the handy table of contents, callouts for special stories, and a lovely appearance, this is an excellent free newsletter template for any type of business.
To keep your employees up to date on what is happening with the company, use this nifty newsletter template. Like the business newsletter, this one also has a table of contents so readers can jump to sections quickly. In addition, you can pop in industry news, an employee profile, birthdays, anniversaries, and upcoming events.
When you want a free newsletter template for a club, church, community group, or charitable organization, take a look at these options.
If you need a newsletter template with many pages, this one is for you. While titled a charity newsletter, you can, of course, use it for other purposes. The main focus is the lengthiness of the template. It has a two-column layout with locations for photos and images. The last page is set up nicely for showing photos and contact information for members of the organization, team, or committee.
Note this template is downloadable in PDF format only.
Another lengthy template is this TidyForm option. Intended for churches, it contains 10 pages that are laid out perfectly for the types of details your congregation needs. You can include a schedule for mass, church projects, programs and classes, and even Bible passages or inspirational quotes.
Note this free newsletter template is downloadable in PDF format only.
For local groups, homeowner associations, committees, and of course, a neighborhood watch per the template name, this is a great option. You can include upcoming events, helpful resources, FAQs, policies, and updates.
Note this template is downloadable in PDF format only.
For teachers, classes, and schools or parent-teacher conferences, school board meetings, and extracurricular groups, these templates are ideal. Students can also benefit from templates for checklists, planners, and schedules for school.
Share what is happening with parents and what is coming up with students using this neat template. It has a school theme, two-column layout, and areas for assignments, highlights, events, and reminders. You can also use a spot for special recognition for students who really stand out for the week or month.
This three-column, four-page, educational-themed newsletter template is ideal for the entire school. It offers news sections for each grade in the school, new students and staff, and has a table of contents on the first page for quick scanning. You can also include your school photo, logo, and motto to make it completely customized.
Don't be fooled by the name of this template, it can be used for more than just elementary school news. It actually has more of a business-style appearance, making it quite versatile. List news, events, community information, contact details, and pop in a few photos for a personalized look.
You can use these free newsletter templates for almost any type of business or organization. They each offer something a little different, but they might be just what you need. And here are a few options for business form templates that come in handy.
If you want to stay away from color while still maintaining a nice design, this template is perfect. You can take advantage of the elegant, novel-like appearance for almost any situation. And if you plan to print the newsletter, you do not have to worry about colored printers or services.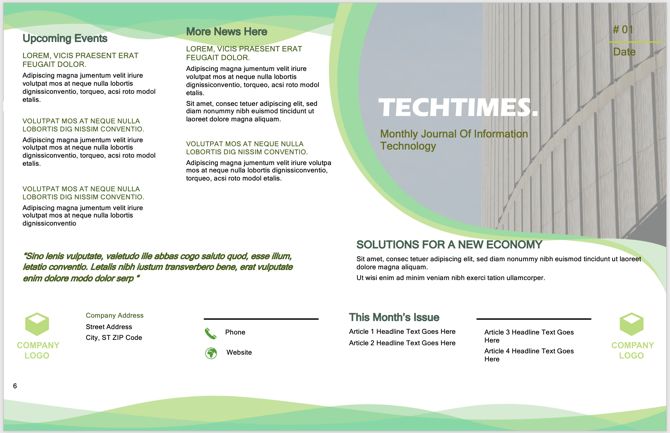 When you want a newsletter in landscape view instead of portrait for folding, this layout is great. With two pages, the template has a three-column layout and an attractive footer on the first page for your company's contact details and logo. This style lets you squeeze in plenty of details for newsletters you only distribute once or twice per year.
12. Newspaper Design
For a distinctive newspaper-style template, TidyForm offers this cool option. This free template has two pages and a spot for a large image on the front page, just like a traditional newspaper. You can include a couple more photos on the second page and use the bigger text areas for the most important information. This clean option gives you an easy way to share the news of your company or organization.
If your business or organization needs a modern appearance for a newsletter, check out this attractive arc design template from Microsoft Office. It offers splashes of color with a geometric look and feel. You can add a few images if you like, highlight special interests, and throw in a quote from your CEO or president.
Maybe you like to hand out your newsletters for a more personal touch rather than sending them in an email. If so, each of these newsletter templates is easy to edit and customize for your business or organization.
And if you still haven't found the right layout or style, why not try your hand at creating your own professional newsletters yourself in just minutes.