Keeping all your contacts up to date can be a hassle. By now, you've probably made countless connections. Plus, despite the usefulness of a full contact list, manually adding others quickly becomes a chore.
Wouldn't it be great to just consolidate that to one source easily? Then you should try importing your Facebook contacts to Gmail.
We'll explore how to download your Facebook information, convert it, and import your contacts right into Gmail.
When transferring information between two platforms, you want to keep it simple. Thankfully, it just takes four simple steps to import your Facebook contacts into Gmail.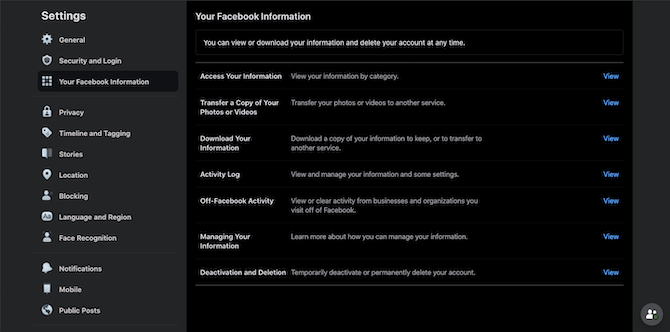 To get started, you'll need your Facebook contact data in one file. To download your information, follow these steps:
Click the account button (down arrow icon) in the upper-right corner of your screen.
Select Settings & Privacy (gear icon).
From the Settings & Privacy menu, select Settings (gear icon).
Under Settings, click on Your Facebook Information (square icon).
You'll see seven different view options. Choose Download Your Information.
After choosing Download Your Information, you'll be taken to a classic Facebook interface. From here, you'll want to want to look at these drop-down menus under the Request Copy tab:
Data Range
Format
Media Quality
For the sake of transferring your contacts, you just need Data Range and Format.
By default, you can keep the data range set to all of your data. However, if you want to exclude certain contacts or just add recent friends then you'll want to modify this field. Click on the data range pull-down menu then select your new start and end date.
With the format field, it's fine to choose either HTML or JSON. We'll discuss methods to convert either to a Gmail friendly format.
Below this, you'll see that all your information is selected by default for download. Since we only need your Friends data, click on the blue Deselect All. Next, click on Friends to reactivate the checkbox next to it.
To the right of the pull-down menus, you'll see the Create File button light up blue again. Facebook will then alert you that a copy of your information is being created.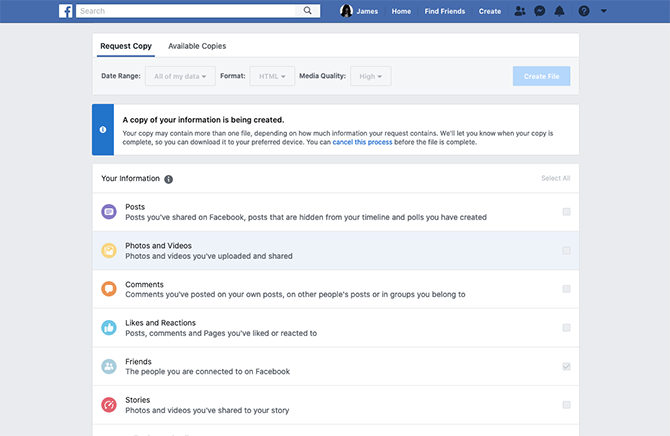 In under two minutes, you should see a prompt at the bottom left indicating that your information is ready to download. You'll also receive an alert from Facebook under Notifications telling you its ready to download. So if you happen to miss it on your screen, there are two ways to be sure.
Once your information file is ready, click on the Available Copies tab. You should see a small number beside Available Copies indicating again that a file is ready to download. If you still see a pending message next to your file, refreshing the page once will bring up the download button.
After clicking download, you may be asked to enter your password again for security. You'll see a prompt, so make sure to save the .zip file at this point.
Your information file will expire after four days. So if you need to download your information again, keep that in mind.
Overall, Facebook does a great job gleaning information about you. It can do this too well and spur discussions on what does Facebook know about you and why you should delete it. While it's important to consider your long-term privacy, this method lets you take advantage of your data for once.
Since your Facebook's friend information doesn't come in a single file, you'll need to extract the ZIP archive. Most programs that handle ZIP files handle other common file types such as RAR.
So if you don't have a tool already, check out the best tools to open RAR files to extract that ZIP file.
After extracting your ZIP, you'll have a new folder. If you chose to save your information as HTML, you'll see a friends folder as well as an index.html. If you chose to save your information as JSON, you'll just see five JSON files.
With HTML, you'll want to open the friends' folder and select friends.html. For JSON, you'll want friends.json. The other files won't be used since they pertain to deleted friends and friend requests.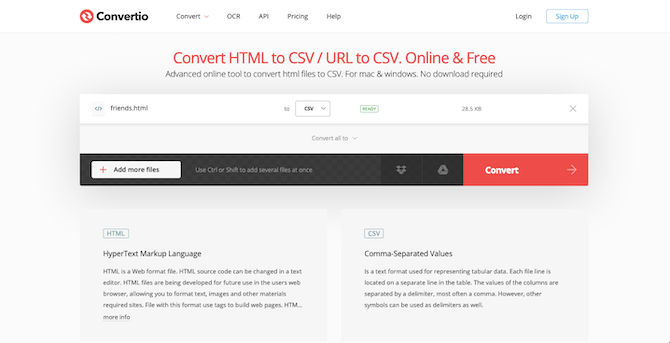 For HTML file types, Convertio lets you add files to convert online. After selecting a file, press Convert. You can then download the CSV file to import into Google Contacts.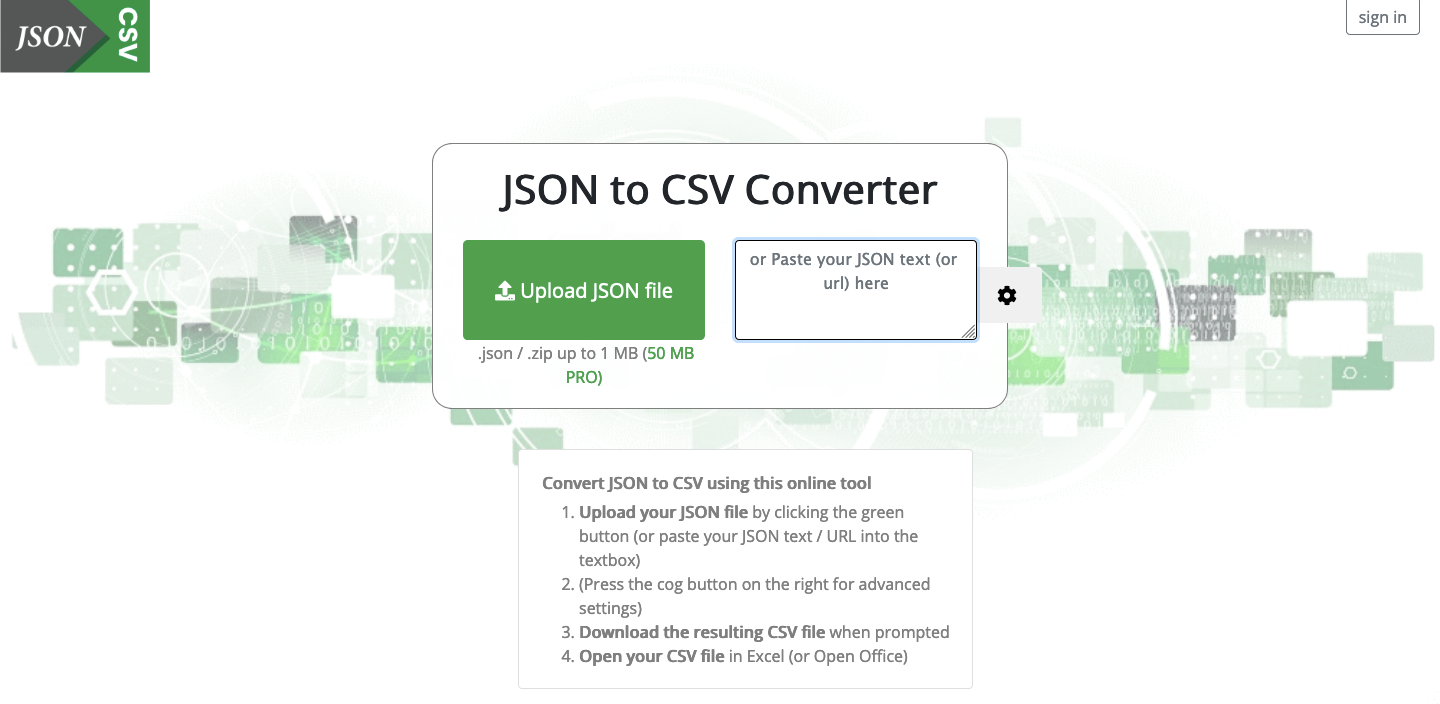 With JSON file types, you can also convert completely online. To begin, just click Upload JSON file. After selecting the file, you'll see the option to download the CSV file as well as a preview of its contents.
Before uploading either file, make sure you know these essential email tips to keep your account and new contacts safe.
Visit: Convertio
Visit: JSON to CSV Converter
Before you can access your Facebook contacts in Gmail, you need to import the newly made CSV file into Google Contacts.
If it's your first time using Google Contacts, you'll see an option to import your contacts in the main window. If not, you can click Import under the sidebar. After clicking either, press the Select file button, navigate to the file, and click Import.
You'll see a small status bar then a prompt letting you know the upload is complete. By default, Google Contacts creates a dated label indicating when you've imported new contacts. If you choose to delete this label, you can opt to keep or delete the contacts.
After importing, you'll need to clean-up and delete some of the results. You'll notice some junk data gets imported along with the contacts such as dates.
Most importantly, you'll also commonly run into this issue: Facebook contacts don't have an email. As a result, they won't show up in Gmail until you edit the contact and enter in an email.
By default, Facebook's security has it so your friends' email is hidden from the timeline. To check in advance, go to any of your friend's About tab and select Contact and Basic Info. If you don't see their email, you won't be able to grab their email.
Because of this, importing Facebook contacts to Gmail works great at creating a new contact list; it's not the best for sourcing email. So you'll want to reach out to anyone whose email you need.
After learning how to import Facebook contacts into Gmail, you might wonder if you should. For those looking to start filling in Google Contacts, it can speed up the leg work. However, privacy concerns make getting those emails harder.
If you want to try importing your contacts into Facebook instead, look at how to upload and delete phone contacts on Facebook.